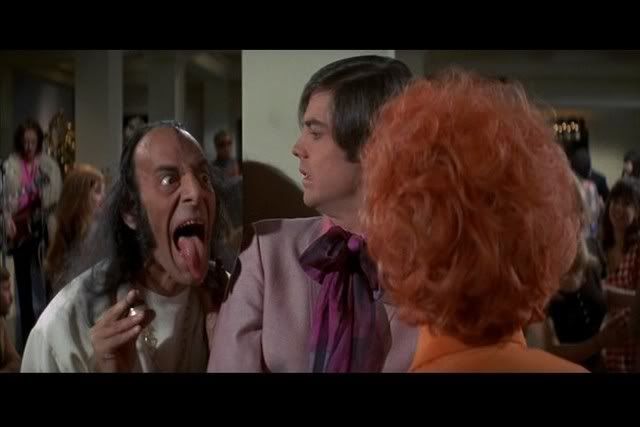 The party was going great, all the hip cats were "Feelin Groovy" then he showed up.
It appears Charles Manson may have had a brother or at least a not so distant relative who, to no ones surprise, decided to capitalize on the current "free love" fad.
By the magic of Manson he seems to have one eye on each of the hostage party goers as if to say "Everyone is welcome to this slurping honking fiesta"
Or
Possibly the party was unfortunately held next door to a governmental LSD testing facility and this normally blue collar everyman thinks he is some type of rare orangutan reaching for a ripe banana.
Either way the mood was killed.



"Son of a Bitch"


She was young, glamorous, single and had it all. Throwing caution to the wind she started dating her boss Mr.Piedmont."Who cares if he's married"..she said..."and anyway, I'm on the pill...although..... some of my panties have been disappering...."
It is unclear what is happening here - but I have a definite suspicion that the test was positive and she's not to happy about it or the impending little bundle of joy.

But wait.... there's more -

"Oh Shit"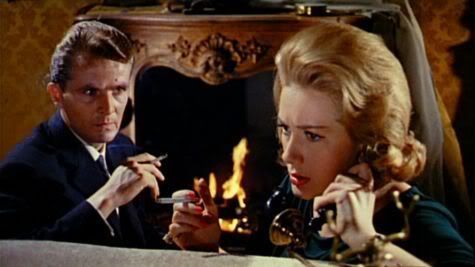 Hello? Piedmont Residence.?
Uh huh... Uh huh....mmhmm...Uh huh....Panties you say?..Uh huh..I see....mmhmm...Oh my.....He put that Where?!......well I don't know about that......

Man this thong is riding up...wait....Did she say something about panties?! Steady old boy,Stay calm she can't prove it, act concerned..even a little pissed but not guilty, Never guilty........I wonder what kind of panties she's blabbing about......maybe with a little pink bow..or.....Damn it man stay focused! Just take a drag from your cigarette and act pissed...a Drag...in..Drag....


Attention readers:
If you have caption suggestions to any of these let me know and I will list them with the photos!